8 This is the word that came to Jeremiah from the LORD: 2 "Go down to the potter's house, and there I will give you my message." 3 So I went down to the potter's house, and I saw him working at the wheel. 4 But the pot he was shaping from the clay was marred in his hands; so the potter formed it into another pot, shaping it as seemed best to him.
5 Then the word of the LORD came to me. 6 He said, "Can I not do with you, Israel, as this potter does?" declares the LORD. "Like clay in the hand of the potter, so are you in my hand, Israel. 7 If at any time I announce that a nation or kingdom is to be uprooted, torn down and destroyed 8 and if that nation I warned repents of its evil, then I will relent and not inflict on it the disaster I had planned. 9 And if at another time I announce that a nation or kingdom is to be built up and planted, 10 and if it does evil in my sight and does not obey me, then I will reconsider the good I had intended to do for it. Jeremiah 18:1-10

As I have pointed out before the Bible is full of wonderful verbal pictures or acted parables which in a vivid way teach and convey lessons for us to learn. This passage from Jeremiah is one of the most well known.
If there is one doctrine modern man rebels against it is the sovereignty of God. At the very least it means God is in control of all things. He overrules all things in heaven and earth so that His will is done.
While we cannot reconcile this with man's vaunted free will, it is what we are clearly taught in the Word.
Man has always thought that he is the centre of the universe. If there is a God he is only there for man's benefit and will only bless him regardless of his sin and disobedience. This seems to be affecting the church today as man is treated as the be all and end all, as if God were obliged to save man regardless of repentance.
Rather it is for the glory of His own name that He does all things. The salvation of man begins in the heart of God and it is all undeserved grace from first to last. Even our faith results by "the gift of God". For by grace you have been saved through faith; and that not of yourselves, it is the gift of God; not as a result of works, that no one should boast. (Eph 2:8–9)
God's call to man is "effectual". It carries with it the power to change hearts and minds. While the general call of God comes to all who hear, to some it works in the heart to convert and plant faith, to others it leaves them untouched. Yet despite this man is still called upon to repent.He is responsible for rejecting the gospel: that this is beyond our understanding is not surprising because of God's ways are far above our ways
Despite the chaos sin has wrought in the world ,God overrules all and brings His purposes to pass
For Israel, being clay in God's hands meant that He could take the sin spoilt work and remake it from scratch: turning it into a vessel worthy of His name.
For the church and the individual believer it means that God will shape and mould and fire the clay. He will tear down what displeases Him and create them anew .
For us to stand on our "Hind legs" and complain about God's methods and ways is no better than for a piece of clay to tell the potter what to do and how to do it.
Unfortunately that is exactly what all of us do sometimes.
Let not the lump of clay resist Him, He knows what He is doing and does it for the best.
_______________________________________________________________________
My employment of nearly ten years ended a few weeks ago and because of my age and the scarcity of jobs it will be difficult to find any employment, let alone something that I feel comfortable with. Everyone I talk to says the odds are stacked against me.
I am at a loss to know what to do and worried what is going to happen to me. I find myself without hope and direction and struggling between fear and faith.
Many believers have the same experience. We know God will act on our behalf but how and how long will it be before He acts?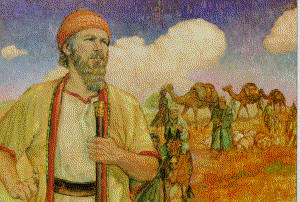 Not many of us fancy being Abraham.
By faith Abraham, when called to go to a place he would later receive as his inheritance, obeyed and went, even though he did not know where he was going. Heb. 11:8

Being on "tenterhooks" about the future is no easier for the Christian than anyone else. Yet even with the weakest faith God remains who He is. He is able to keep and provide against all situations and all difficulties. The "odds" against us mean nothing to Him.
He will never fail us or desert us. If we are faithless, he remains faithful, for he cannot disown himself. 2 Timothy 2:13
God remains to the Christian, "our refuge and strength, a very present help in trouble.Psa46:1"