Then I heard a voice from heaven say, "Write this: Blessed are the dead who die in the Lord from now on." "Yes," says the Spirit, "they will rest from their labor, for their deeds will follow them." Revelation14:13
Whenever you hear of someone dying suddenly, tragically or even foolishly,  family and friends are called upon to pay tribute to them.
For the Christian, the greatest tribute that can be paid comes from Christ. That He should acknowledge a life spent in his service and obedience. Death in Christ becomes not an escape from earthly sorrows and troubles, but a rest from a life spent in Christ's service.
This is not merely to be the reward of those who are in the "frontline", like ministers, missionaries and full time Christian workers. We should all work for Christ, if not far away, we can work close at hand in our day to day circumstances.
Whatever your hand finds to do, do it with all your might, for in the realm of the dead, where you are going, there is neither working nor planning nor knowledge nor wisdom. Eccl 9:10
None of us do all we can for the cause of God and truth. We could all be more active in the service of Christ. Unfortunately there are many "cumberers of the ground", who do nothing much and are merely a waste of space.
On the other hand even the least service in the kingdom does not fail of its reward. The person laid low by illness or age is still capable of glorifying Christ in suffering and continued faithfulness.
That main comfort of this text to the work weary Christian is that, "There remains, then, a Sabbath-rest for the people of God;" Heb 4:9
That this rest is not mere unconsciousness is because the verse  alludes to the Jewish Sabbath rest which was not slept away, but spent in worship and fellowship.
The question we must ask ourselves are we laboring for Christ and will our heavenly rest be well deserved.
                                                        ************************************************
Praying Always
18 Then Jesus told his disciples a parable to show them that they should always pray and not give up. 2 He said: "In a certain town there was a judge who neither feared God nor cared what people thought. 3 And there was a widow in that town who kept coming to him with the plea, 'Grant me justice against my adversary.'
4 "For some time he refused. But finally he said to himself, 'Even though I don't fear God or care what people think, 5 yet because this widow keeps bothering me, I will see that she gets justice, so that she won't eventually come and attack me!'"
6 And the Lord said, "Listen to what the unjust judge says. 7 And will not God bring about justice for his chosen ones, who cry out to him day and night? Will he keep putting them off? 8 I tell you, he will see that they get justice, and quickly. However, when the Son of Man comes, will he find faith on the earth?"Luke 18:1-8
John Wayne in the film"The Searchers", said that" a Commanche would only chase a thing until he thought he had chased it enough. He could not understand anyone who would just keep on coming."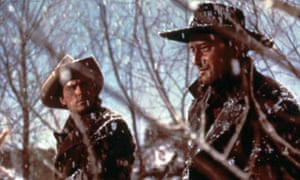 Whether this is historically accurate I do not know.
I wonder if we only pray for things until we think we have prayed for them enough.
Sad to say we very often perceive of God as being hard hearted way. To us obtaining things we need of God is an uphill battle which we soon give over.
The comparison in this parable is not  about the similarities but the contrast between this "time serving judge" and the attentive graciousness of God.
The problem is our lack of patience and faith. God's timing is not quick enough. His ultimate wisdom in not giving what we ask for sometimes, brings out the spoilt child  in us. Uncertainty about the answer is more than we can handle in the heat of passion.
If there is a problem in our dealings with God, we can take it for granted the problem is at our end. We forget the innumerable times past when our prayers were abundantly answered. We fail to store up past experience of God's faithfulness to sustain us in present difficulties and hardships. That God through Christ will remain "prayer hearing" and answering is, certain. For our part we must "keep on keeping on", in prayer and obedience.
                                                ***********************************************
"As the rain is most necessary and suitable to the dry ground, and to the various plants it produces, and also to the different parts of every plant or tree—such as the root, trunk, branches, leaves, flowers, and fruit; so Christ is absolutely necessary, and his influence most suitable to all his people's souls, and to every faculty of them—the understanding, will, memory, and affections; and to all their different graces, faith, love, repentance, etc.; to root and establish them, strengthen and confirm them, quicken and increase them, cherish and preserve them." John Willison 1680-1750 quoted by C.H. Spurgeon in "The Treasury of David".